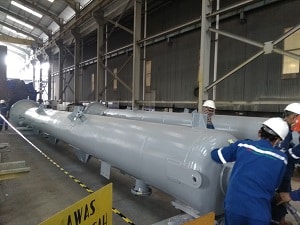 A large manufacturer in Southeast Asia needed corrosion protection during hydrotesting, shipping, and storage of a variety of newly fabricated oil and gas equipment. They used VpCI®-649 BD to protect the boiler and drum during hydrotesting and applied VpCI®-609 to all equipment (reactors, vessels, columns, drums, separators, etc.) for six months of protection during shipping and prior to commissioning. They were very satisfied with the easy and fast method of corrosion inhibition, which replaced their conventional protection strategy of nitrogen purge.
Read the full case history here.
Keywords: Case History Spotlight, oil and gas equipment, fast and easy corrosion protection, hydrotesting oil and gas equipment, corrosion inhibitors, nitrogen purge alternative, Cortec, corrosion protection during shipping, hydrotest additives, void space protection
For a PDF version please click here.