It was great to have our team back in Houston May 1st-4th for the annual Offshore Technology Conference (OTC)! With attendance rebounding at this major oil, gas, and offshore event, OTC 2023 offered even more opportunities than AMPP to have deep conversations with industry professionals facing real offshore corrosion problems.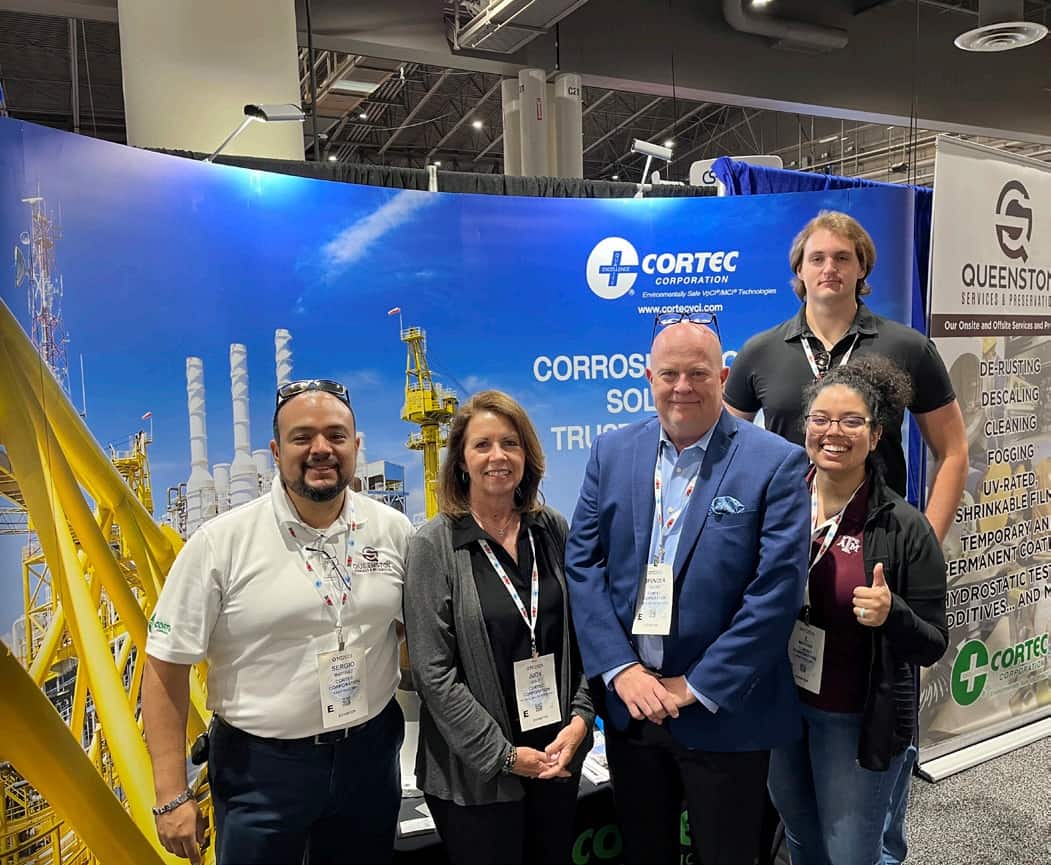 This year, we noticed an especially large segment of international attendees looking for new technologies to bring back home. It was also interesting to see how many individuals and companies had VCI technology as part of their current project proposals. As usual, we appreciated seeing prominent longtime customers who intentionally came to find us. It was especially fun to enjoy ongoing interaction with Cortec® Friends and Family from CGSI and Queenston who spent a day or more helping us staff the booth.
Our booth graphics drew many questions about Cortec® Coatings-CorrVerter® Rust Converter Primer featuring prominently in our discussions since many offshore applications have sandblasting limitations due to time, location, or safety reasons. VpCI® Emitter samples sparked conversations about the huge need for electronics protection. Corrosion control on FPSOs was another big topic thanks to the increasing popularity of these mobile production and storage units in Southeast Asia.
Overall, the show had a great vibe, and we are grateful for those of you who took time to stop by, share thoughts, ask questions, or just say "hi." We look forward to strengthening these relationships in the coming year with old and new connections alike!
Keywords: OTC 2023, offshore industry, oil and gas industry, offshore corrosion problems, Cortec, VCI technology, anticorrosion coatings, rust converter, corrosion on electronics, alternative to sandblasting
For a PDF version please click here.